Contents
Brief Bio
Bonnie ZoBell's linked collection, What Happened Here: a novella & stories, was published by Press 53 on May 3, 2014. Her chapbook, The Whack-Job Girls, was published by Monkey Puzzle Press in March of 2013. She has won an NEA and other awards for her fiction, currently teaches at San Diego Mesa College, and is working on a novel. Visit her at www.bonniezobell.com.
Full Bio
Bonnie ZoBell's new linked collection What Happened Here, a novella and stories, centered on the site PSA Flight 182 crashed in the North Park area of San Diego, was published in May 2014 by Press 53. Her chapbook, The Whack-Job Girls was released by Monkey Puzzle Press in March 2013. She has received an NEA fellowship in fiction, a PEN Syndicated Fiction Award, and first place in the Capricorn Novel Award from the the Writer's Voice of NYC. She was selected for mentorships with Dorothy Allison and Jon Raymond at the Tin House Writers Conference, and her work has won a place on Wigleaf's Top 50, a story published by Storyglossia was named as a notable story in storySouth's Million Writers Award, and the Los Angeles Review nominated one of her stories for a Pushcart Award. She has been a finalist for the James Jones First Novel Contest and the Nelson Algren Literary Award at the Chicago Tribune.
Bonnie's work has appeared in numerous publications, including The Potomac, Night Train, Blue Fifth Review, New Plains Review, PANK, and The Connotation Press. She has received fellowships at numerous residencies, such as Yaddo, MacDowell, the Virginia Center for the Creative Arts, Dorland Mountain Arts Colony, Wurlitzer, and Villa Montalvo, and attended such conferences as the Bread Loaf Writers Conference, Tin House Summer Workshop, and the Squaw Valley Community of Writers. After receiving an MFA from Columbia on fellowship, she has been teaching at San Diego Mesa College where she is a Creative Writing Coordinator. Currently she is working on a novel. She lives in a casita in San Diego with her husband, two dogs, two cats, and quite a few succulents.
Downloadable Images
Downloadable Cover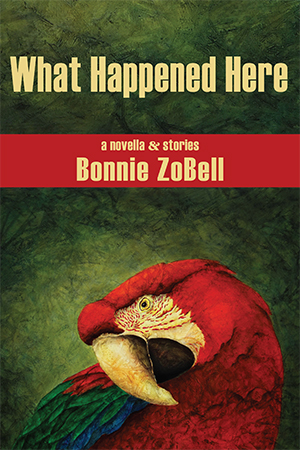 Download Web Resolution
Download Print Resolution
Description of the Book
What Happened Here delivers a wildly different cast of characters living on the same block in North Park, San Diego, site of the PSA Flight 182 crash in 1978. The crash is history, but its legacy seeps into the stories of the neighborhood's inhabitants, bringing grief, anxiety, and rebellion to the surface and eventually assists in burning clean the lives of those who live in the shadow of disaster. Amidst the pathos of contemporary life, humor flits through these stories like the macaws that have taken to the trees of North Park. The birds ensure that there's never a dull moment in the neighborhood, and their outrageous colors and noisome squawks serve as constant reminders of regrowth.
Praise Sheet
Press Release
Bonnie's Comments on Book
What prompted me to write these stories is the fact that I really do live on the site of the crash of PSA Flight 182 in North Park, San Diego. At least a small part of the neighborhood's identity is that this is where the crash occurred. Most everybody in San Diego knows about it even though it occurred thirty years ago. The specific area the stories take place in is filled with Craftsman and Spanish Revival cottages from the late 20's. Because of the fire, parts of the area were rebuilt in a very different era, and it shows. But the book isn't all about the crash, even though it winds in and out of the stories. North Park is exhilarating because it's so eclectic. Filled with so many different ethnicities, ages, and sexual persuasions, the sense pervades in the place that anything goes and a person can be free to be who she or he is. Often Californians, especially Southern Californians, are portrayed as vapid. The characters in this book show that though we may have a different lifestyle, the people who live here have every bit as much depth and struggle with all the same moral complexities as others do in our modern life.
Q & A
See The Nervous Breakdown's self-interview for Bonnie ZoBell here.
Work Experience
2014 Organized, ran, and judged Press 53 Flash Fiction Contest at AWP.
9-29-13 to 10-2-13 Judge, Fifth Annual Bartleby Snopes Dialogue Only Contest
7-19-13 to 8-12-13 Judge, Brattleboro Literary Festival Flash Fiction Contest
1-28-13 to 2-4-13 Guest Editor, SmokeLong Quarterly
2013 Organized, ran, and judged Heat Flash Fiction Contest in conjunction with the Heat Reading, Proceeds to Benefit Vida at AWP
9-1-12 to 3-1-14 Contributing Editor, Flash Fiction Chronicles
3-1-11 to 3-31-11 Guest Editor, The Northville Review
10-10 to 10-13 Contributing Editor, The Northville Review
6-84 to present Full Professor since 1997, English Department, Mesa College, San Diego
Misc: Lecturer at University of San Diego, San Diego State University, City University of New York. Proofreader and copy editor at Neal-Shuman Publishers in NY. Features Editorial Assistant at Cosmopolitan Magazine. Waitress, dry-cleaning clerk, motel maid, etc.
Education
1982 M.F.A. in Writing, Fiction, on Fellowship, Columbia University, New York, New York
1979 A.B. in English, with Honors, with Distinction in English, San Diego State University, San Diego, California