M
arivi Soliven's beautiful novel
The Mango Bride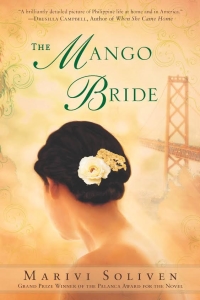 won the 2011 Grand Prize for the Novel in English in the Carlos Palanca Memorial Awards for Literature, the Philippine counterpart of the Pulitzer Prize, and also won the 2013 San Diego Book Awards Prize in Best Contemporary Fiction. The tale is full of wonderful sensory images in addition to what it would be like to grow up in the Philippines, the moral climate there, and what happens to female immigrants to America who don't live up to those standards. Marivi is a master at characterization. Not only does she deftly make each of her characters as complicated as real human beings, but she introduces people from different classes to her story to show what life is like in Manila for them. It's a great novel!
Marivi has authored 16 other books, some of which include Spooky Mo: Horror Stories 2014; Suddenly Stateside: Funny Essays on Pinoy Life in America 2014; Baby Love: A Pinay's Practical Guide to Pregnancy 2004; Sexy, Sassy, Singularly Happy : the savvy girl's guide to enjoying the single life 2005; Philippine fright: 13 scary stories 1996, The Hunt for the Hippocampus 1996; The Subway Cyclops 1996; and The Case of the Crime-catching Camcorder 1996. Besides NAL Penguin publishing The Mango Bride, Grupo Planeta released a Spanish edition, Hace una Eternidad en Manila (2014), and Anvil Publishing, Inc. will release the Filipino edition this July.
Bonnie ZoBell: Welcome, Marivi. The writing in The Mango Bride is really lovely, filled with so much history as well as the details of day-to-day life of the main character, Amparo Guerrero. I notice there is a span in the years when you won the two awards mentioned above for the book. How long did it take to write?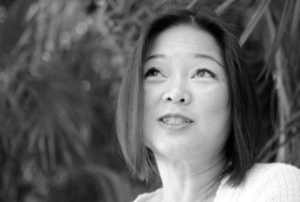 Marivi Soliven: Thank you for reading my novel and for those kind words. I'm so glad you enjoyed it. The novel took five years to complete, from draft to publication, but I actively worked on it for only about three years.
I'd never written a novel before, just a lot of short stories and flash fiction. To get over my fear of the long form, I joined NaNoWriMo 2008. At the end of November, I'd written 50,000 words but only 26 of them – all in the first sentence – were any good. So I tossed everything else out, kept the basic story line and started over with Judy Reeves' writing group in 2009. I wrote a chapter every week for two years. By December 2010, I had a finished manuscript and a working title: In the Service of Secrets.  Jill Marsal took me on for literary representation in February 2011, then landed a book deal with Penguin in April. While the manuscript was out on submission I entered it in the Carlos Palanca Memorial Awards for Literature, which is the Philippine counterpart of the Pulitzer Prize. The novel won the grand prize a couple months later under the old title. After Penguin took it on, we renamed it The Mango Bride. Then there was a long lull.
Even though the book contract was signed in April 2011, I didn't actually begin working with my editor on revisions until early 2012 (she was finishing up other manuscripts). I spent a year revising/responding to copy edits and proofreading, until finally the book was released in April 2013. The Mango Bride was actually released in Manila a full month ahead of its US release date. The Asian Sales manager there figured that would help build buzz among the Filipino/ Filipino-Americans in the U.S. It kind of did because then the owners of the largest bookstore chain in the Philippines flew me home to Manila for a month of book events.
BZ: There's a lovingness in the descriptions of the Philippines, from the writer describing her setting and from the way the characters talk about it themselves. I can't imagine how painful it must be for the women (and some men, too) who are all but banished from Manila because of what is considered immoral behavior there. They come to live in the U.S., where these behaviors are more accepted, and yet live the rest of their lives homesick for their homeland. Does this happen as much as it used to? What are the chances of most of these women ever returning home, or do they just never fit in again once they've left?
MS:  The Mango Bride was my love letter to Manila and to the Bay Area.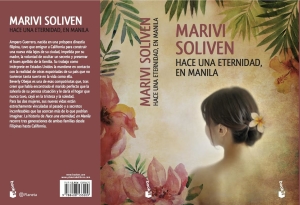 I grew up in Manila then studied and subsequently taught at the University of the Philippines.  Much later, I lived in the Bay Area for seven years, so I know those places intimately.
I have no idea how frequently people flee to America to escape scandal these days, but can say with reasonable certainty that apart from the desire to make a better living, one of the reasons Filipinos leave home is to make a fresh start. Americans do it whenever they move to another state for a new job, but since you do so within the same country, you don't have the same experience of exile.
Regardless of the reason for their leaving, many Filipinos still want to return to Manila in their old age. Women who migrate for marriage and who subsequently go through a divorce face a different challenge. Apart from the Vatican, Philippines is the only country in the world that bans divorce, so there isn't a second act for a Catholic Filipina divorcee who goes home and eventually wants to remarry and continue practicing her faith. As far as most Filipino men are concerned, she's used goods. That sounds really crass, but there it is. You can read more about the situation in this recent article in The New York Times called "Divorce Ban Shows Catholic Church Power in Philippines."
BZ: You do a wonderful job depicting the different classes in the Philippines in Mango. We see what I assume are the fairly upper-class in the Guerrero and Madrigal families. Fascinating how these families operate with so many servants at their bidding. And then there is Beverley, born out of wedlock, who barely exists, she has so little.
MS:  I grew up in a household similar to the one the Guerrero clan inhabited, but because I love cooking, I hung out in the kitchen with our cooks. It was a habit my mom disapproved of because she believed I was raised for a life of more intellectual pursuits, that only uneducated people should have to do chores (!).
Marcela is inspired by a couple of cooks who worked for my family for decades, and Yaya Esther was our nanny through half our childhood. She lives in Switzerland now (another interracial marriage) but she bought a copy of my novel as soon as she heard about it. Señora Concha, Doña Lupita and Carina Madrigal are composite characters inspired by my mom, the women in her family and her friends. Luckily my mom has a sense of humor about these things . . . and I dedicated the book to her clan to avoid getting disinherited. Aldo's shenanigans, though not widespread, were not unheard of, and much of the dialogue within the Guerrero clan was drawn from conversations I overheard growing up.
BZ: The whole mail-order bride thing, which is so foreign to our culture, is just a horror to think about. To imagine that marrying a man you hardly know is better than the life you could live without him is scary. I just went and looked this up online and found the "Philippine Brides" section on RoseBrides.com and am flabbergasted to read:
"The Filipino bride has a lot to offer and her devotion to her man and to family makes her really desired as a mate. She is the family's treasurer, keeping the finances in order and the household well-run. The typical Filipina is a supporting, thoughtful, and strong woman, who is quite capable of running the family unit, juggling household and wifely duties, and participating as a good and loyal partner. Filipinas also tend to be happy people, full of smiles and being fun-loving in most cases."
As if they are all alike! And yet on that site alone, there are over four hundred women trying to meet husbands. In one post by a 32-year-old woman, it says she'd be interesting in meeting men between the ages of 30-75.
All of this makes my heart break even more for Beverly, whose life you paint so well. We saw what her life was like before and after—appalling in each case. Do you think Beverly represents something that goes on a lot? Do you think she'll ever get out of there, or is she stuck?
MS:   Troy Espera, a broadcast journalist, produced a couple of news clips about The Mango Bride, including this one shown on YouTube called "Of Mango Brides and Mail Order Brides." He researched the "industry" and found that in a ten-year period, the number of marriages contracted through mail-order matchmaking services rose from 4,000 in 1999 to 15,000 in 2010.  Back in 1998 I spotted an ad for one of these mail order matchmakers in the classified section of the East Bay Express (we were living in Oakland at the time). The website suggested that Filipinas were historically inclined to love American men because of Douglas MacArthur's "I shall return" promise in World War 2. Bleaagghh.
When I began writing the novel a decade later, I googled "mail order brides" and found video testimonials of middle-aged men endorsing the service, some of them dandling what looked like Filipina teenagers on their laps. It was obscene.
The problem is that when you marry an American, the INS issues a conditional green card that grants the immigrant spouse legal residency for two years. After that period is over, the couple returns to the INS for an adjustment of status interview. If the couple is still married, the husband can then apply for his wife to gain permanent residency. If the spouse happens to be the abusive sort, imagine the kind of mayhem that could ensue during that conditional two-year period, and the immigrant spouse would just have to suck it up. If your legal guarantor in this country is also your tormentor, you are screwed. This is why the Violence Against Women Act now offers expanded protections under the U Visa. In my day job as an interpreter, I helped with so many domestic violence calls that I decided to tell these survivors' stories. Most of the call scenes in my novel are drawn from actual calls I've translated over the decade I've worked in this day job.
After the novel came out, so many readers wrote me about having endured similar abuse that I took it as a sign that I needed to go further with Beverly's story. Consequently, I spent much of last year working with Susan McBeth, who runs Adventures by the Book, to stage the Saving Beverly Fundraising Dinner Adventure, an event that benefitted a San Diego nonprofit whose law clinic gains legal residency for immigrant survivors of domestic violence. We held it at the Joan Kroc Center for Peace and Justice at the University of San Diego last October, and the event was co-sponsored by the California Western School of Law (where The Mango Bride is now required reading in its Women and Immigration Law class). We raised nearly $10,000 that night, enough to save nine women.
BZ: You're also flawless in terms of moving back and forward in time and back and forth between countries. I was never confused. Any tips about this to offer other writers?
MS: Color code your chapters. In the original manuscript, after the stabbing scene that opens the novel, the plot progressed in a strictly chronological order, from the 1960s in a Mad Men-like Manila to 1995 in Oakland. It ended with the same scene that opened the book – Marcela taking the knife from the plate of mangoes. My genius editor discerned that even though the novel began with Marcela and Concha, the real story lay in Amparo's and Beverly's separate journeys to America.
So I printed out the entire manuscript and, being anal-retentive, color coded each chapter according setting (Manila or California,) adding a third color for new or transitional chapters. Then I just sort of rearranged the chapters on the living room floor. The colors helped me figure out where I was spending too much time on any one location. Besides converting the chronological order into one that switched between past and present, I ended up excising several Manila chapters and writing a couple of transitional chapters plus an epilogue. My editor strongly recommended I add an epilogue because, American readers like closure.
My editor was pretty surprised when I mailed back my revised manuscript. She said she'd never seen a color coded table of contents.
BZ: Who is your favorite character in The Mango Bride, and why?
MS: Hard to say. That's like asking a mom to name her favorite child. Writing dialogue for the Señora Concha and Doña Lupita was loads of fun, though. When Filipino readers told me they have aunts or familial matriarchs who sound like those characters, I knew I'd done a good job.
BZ: What are you working on now?
MS:  The second novel. I drafted that one in NaNo 2011 and worked on it on a Hedgebrook retreat in 2012. Since then I've made very little progress because The Mango Bride keeps getting in the way. I went on this 17-city 3-country book tour when The Mango Bride launched in 2013. Then last year's Saving Beverly fundraiser was so successful that a friend decided to stage a sequel in San Francisco, so now we're putting that together on June 4 at the Philippine Consulate.
I figure writing novels is sort of like having kids. The first one is a lot of work but then you can't catch a break after it's released because then you have to split your time between publicizing that first novel and gestating the second and working the day job. Then there's my actual child, who was a manageable 5-year-old when I began writing the Mango Bride. Now she's 12 and has her own drama going on. Maybe I should just write her into the second novel. Oh wait, I kind of already did.