What the Zhang Boys Know, a stellar new book by Clifford Garstang, is full of such beautiful language and is so gripping that while his winning this award is definitely a cause for celebration, it's no surprise. The Library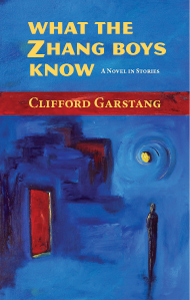 of Virginia Literary Awards began in 1998 to honor and thank outstanding Virginia writers who have enriched people's lives and filled our libraries. Past winners in fiction have included David Huddle, Barbara Kingsolver, Richard Bausch, and Deborah Eisenberg. Cliff Garstang is a fitting addition.
What the Zhang Boys Know is set in one of Washington, D.C.'s most eclectic, if somewhat low-income, condominium buildings, Nanking Mansion, on the edge of Chinatown. The Zhang boys' dad, Zhang Feng-qui, has lost his wife and is looking for a replacement to take care of his sons and his aging father, who has just moved to D. C. from China, while he himself is at work. Feng-qui wouldn't mind some companionship, someone he can share his life with, as long as the first requirements are met. And he does meet Jessica Lee, "the Chinese woman from Olsson's Books on 5th Street who, even before Maddie's accident, had caught his eye, not in any illicit or unsavory way, but by virtue of her being Chinese, that's all it had been at first." Barren, Jessica Lee would like to have a family and tries to become closer to the boys. She quickly learns, especially at the beginning, that they don't consider her family.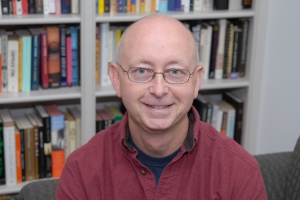 After the death of their mother, the Zhang brothers become adrift. They are winsome, sympathetic, and come to life on the page under Garstang's compassionate hand. Unsure of what's next after their tragedy, of what life really means, they explore the other tenants in the building and learn what fills their worlds, or what makes them feel equally empty. The divergent characters who inhabit the "mansion" are so very human. Each is somewhat abandoned, and yet in their odd and idiosyncratic ways, each is trying desperately to find a way to connect. Garstang delicately weaves their tales together.
There's Aloysius who has just split with his wife and moved in next door. He sees faces in his wall—his ex-boss, his soon-to-be-ex-wife—and swings a sledgehammer into it. When he finds no insulation underneath, only brick, and he hits that, too, soon he can see the street below. Zhang Feng-qui comes by with his two sons and says he can hear what is happening. Instead of complaining, though, he's so desperate he asks Aloysius if he can watch his boys. Quite a strange day follows.
The painter who lives on the other side of the lobby from the Zhangs talks to virtually no one in the building. Calvin runs, paints, and is seen by others as the recluse with spatters of paint on his jeans and bare feet. An enormous painting of his hangs on a wall in the building's lobby. One night when everyone else is asleep, he sneaks in and steals it with the intention of destroying it. He leans it against the wall in his loft.
The painting is abstract, but the man knows what it depicts: the rooflines of a barn against a winter-blue sky. . . . There is a face in the window of the barn, but that might as well be a shadow, reflected light, a smudge, an accident. The man has a hunting knife at the ready, one he has sharpened for this purpose, and he means to shred the painting, to return it from whence it came, to nothingness, his imagination, to eliminate that face, that smudge, that accident."
It is one of the Zhang brothers, Simon, who first notices the painting is missing, which prompts an all-out search through the condos to try to find it. This is one of many times the tenants come together to help each other.
Down the hall, Claudia does yoga to try to relax and contemplates what new jobs she can apply for so she doesn't have to keep borrowing money from her younger sister. She loses weight with no money for food, goes to the swap meet and sells what little she owns. Still, she has to keep asking her sister for money. She's down to very few physical belongings and suddenly her sister announces she's coming to town. Claudia wracks her brain, trying to think of some excuse so her sister won't come to her apartment, which she's embarrassed about. She could complain about those noisy Zhang brothers, only they aren't noisy at all and, in fact, she finds them charming.
A mysterious affair is going on in the Nanking Mansion right under everyone's noses.
There is the perception that along with these boys we are looking down on an enormous doll's house, full of people who don't quite have control over their lives. We feel like we're getting to know our neighbor's secrets, and consequently we learn a little more about ourselves. What if all these people told each other exactly what was going on in their lives instead of hiding their quiet lives of desperation? The answer is that they do, each in his or her quirky way. This is the wonderful way in which Garstang brings the whole book together and makes it become the uplifting, though never schmaltzy, read that it is.
A must-read!