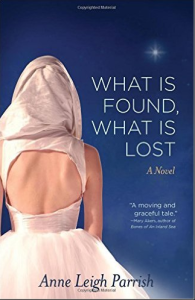 W
hat Is Found, What Is Lost by
Anne Leigh Parrish
is a captivating look at the lives of two sisters raised by a mother who, at seventeen, hit the road to follow a revivalist minister. Parrish's gritty details are impressive as the reader witnesses the girls sleeping on a dirt floor and living with no running water at Swinn's camp. Especially Freddie, the oldest, has a list of duties to help keep her mother and Swinn, the minister, happy—she collects donations from the followers, distributes tattered Bibles, and doles out glasses of water to help "the newly healed who had fainted with release and the power of the Spirit." Faith and Hope, who as adults change their names to Freddie and Holly, discover the minister became their father while he was married to someone not their mother, and that he and this absent wife have four children. Parrish's exceptional prose in this debut novel creates sympathetic portraits of the sisters in older age as they still struggle to try to fit in with mainstream America and still have to deal with their mother who, aside from being an obsessive evangelist, is an alcoholic.
Freddie, who narrates most of the story and who is cranky in an appealing way ala Olive Kittridge, has recently been widowed and describes herself as someone who "possessed a richness of spirit—an inward bent—that allowed her to tolerate solitude." But with Parrish's masterful characterization we see through this and experience her loneliness. Freddie's quick quips—with her departed husband, Ken, as she gets his opinion on the life that continues to unfold around her, offer some proof as she doesn't have friends to confide in as well as some fun asides sprinkled throughout.
Anne Leigh Parrish's debut novel, What Is Found, What Is Lost (She Writes Press, 2014) is a Finalist in the Literary Fiction category of the 2015 International Book Awards. She is the author of two previous books, Our Love Could Light The World (She Writes Press, 2013) and All The Roads That Lead From Home (Press 53, 2011). In addition, she has published over thirty-five short stories, and won numerous honors and awards. She is the fiction editor for the online literary magazine, Eclectica. She lives in Seattle.
Bonnie ZoBell:  The premise of What Is Found, What Is Lost is so alluring. I'm always captivated by how writers come up with such unique stories that seemingly have nothing to do with their own lives. How did you come up with the idea for this tale?
Anne Leigh Parrish:  For me, the story began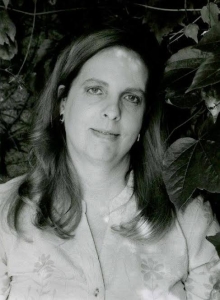 with Anna and Paul, who are introduced at the beginning of Part Two. Anna and Paul are modeled closely on my grandparents. In real life and in the novel, they meet in Constantinople, come to America, and settle in Huron, South Dakota. There the similarity ends. Paul hiding his Jewish faith is pure supposition on my part. My mother owned a menorah, and said it had come from her mother. But her mother – Anna – was Armenian, and a Catholic, which made no sense. One day I decided that my grandfather Paul had asked her to assume his Jewish identity, to pass as a Jew, if you will. Whether that's true or not, I'll never know.
BZ:  The lives of Freddie and Holly and their mother, Lorraine, when they're on the road acting as missionaries for the minister, seem so authentic. Did you do a lot of research to unearth what this would be like?
ALP: Actually, no! What I did look into was the tent revival movement of the 1940's and 1950's and Evangelical missions in the Midwest to lend truth to the fiction.
BZ:  At one point the mother leaves her daughters in a barely habitable hovel of a home before she runs off to evangelize some more. The sisters aren't very old, and I feel sort of horrified about what could happen while they're alone. How do you think this affects them as adults?
ALP:  Well, my mother made a habit of taking off when I was little, though not for as long as Lorraine liked to, and I'll be honest when I say that it's very difficult to live with. You have all sorts of trust and personal security issues. Freddie lacks self-esteem, as shown by marrying a man who easily and readily dominates her emotionally. Holly marries a man she knows is unfaithful to her, yet she stays.
BZ:  You do such a fabulous job in What Is Found, What Is Lost of making the back story every bit as fascinating as the present time in the story. We're often told not to include too much back story. Any tips for other writers about how to make this work?
ALP:  It's a question of relevance. If the past connects to the present, that's crucial. And for me, in this novel, I wanted the past to be as compelling as the present. Organized religion is all about revering what came before, and that's what I tried to underscore. To make it all hang together, make sure your details are consistent throughout. If a decorative box appears in the past, it better look pretty much the same way it does today, and so on.
BZ:  One of the most fascinating aspects or patterns of the book to me is how the offspring in various generations in this family run off to lead such unexpected and abhorrent (to their parents) lifestyles. Why do you think Lorraine, Freddie and Holly's mother, runs off to follow such an unsavory minister on the road? Why do you think Beth runs off to become a pole dancer in Vegas? What is the parallel here? What are you saying about such rebellious pursuits?
ALP: It's a question of mother-daughter relationships. I have no doubt that Lorraine would have been much more inclined to stick around if her mother, Anna, had been warmer and more loving towards her. And Beth leaves in large part because she sees that her mother is incapable of defending her against her overbearing, often cruel father. When you don't get the love you need at home, you go out in the world, often chaotically, trying to find it.
BZ:  I read that you earned your MBA when in graduate school. What the hell, Anne? And what made you come back to your sanity and pursue writing?
ALP:  Well, that was something of a misstep though of course at the time it made perfect sense. I'd majored in Economics in college, but I'd always been very drawn to writing. After I earned my graduate degree in business I started writing fiction and have stuck with it ever since. I don't use the MBA much, alas, except in terms of managing our household finances, particularly our investments.
BZ:  What are you working on now?
ALP:  The Magdalene Tapestry – a novel. As before, this is a multi-generational tale, though the characters are not related except through this one piece of needlework that seems to have an uncanny ability to transform the lives of anyone who works on it.
BZ: I like that premise and will look forward to reading it! Thanks again for coming by.