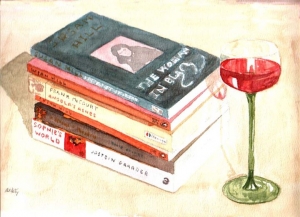 Come to our reading or win a free book whether you can attend or not!
Reading – T. Greenwood, Heather Fowler, and Bonnie ZoBell Reading and Signing Event , Thursday, July 18th, at 6:30 at The Bamboo Lounge, Hillcrest, 1475 University Avenue. Fun! If possible, let us know you're coming here.
T. Greenwood will read from, Grace, described as "a novel with multiple layers . . . harrowing, heartfelt and ultimately so realistically human in its terror and beauty that it may haunt you for days after you finish it."
Heather Fowler, who has been called a "morbid Alice in Wonderland in the men's room of dystopia," will read from her newest "creepy, disturbing, and quietly horrific" as well as "unexpectedly humorous" collection, This Time, While We're Awake
Bonnie ZoBell will read from her recently released, The Whack-Job Girls, stories said to be "charged and funny, sometimes dark, and always deeply human," as well as written with a "reckless heart."
Giveaways
Whether you'll be attending the reading or not, win a copy selected randomly of Heather Fowler's and Bonnie ZoBell's books listed above, or a special pre-released copy of Greenwood's "beautiful and tragic" new book, Bodies of Water.
All you have to do is. . .
. . . post a comment here about the best book you've read in the last six months. And you've entered the giveaway!